The realization relationship indicates that an entity plays a critical role in the creation, achievement, sustenance, or operation of a more abstract entity.. The example below illustrates two ways to use the realization relationship. A Transaction Processing function realizes a Billing Service; the Billing Data object is realized by the representation Paper Invoice.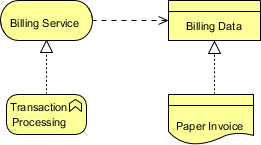 The realization relationship indicates that more abstract entities ("what" or "logical") are realized by means of more tangible entities ("how" or "physical").
The realization relationship is used to model run-time realization
Eor example: A business process realizes a business service, and that a data object realizes a business object, an artifact realizes an application component, or a core element realizes a motivation element.

The usual interpretation of a realization relationship is that the whole or part of the source element realizes the whole of the target element.
Related Articles: