The assignment relationship expresses the allocation of responsibility, performance of behavior, or execution. The example below includes the two ways to express the assignment relationship. The Finance active structure element is assigned to the Transaction Processing function, and the Payment Interface is assigned to the Payment Service.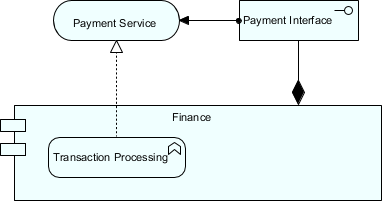 The assignment relationship links active structure elements with units of behavior that are performed by them, business actors with business roles that are fulfilled by them, and nodes with technology objects. It can, for example, relate an internal active structure element with an internal behavior element, an interface with a service, or a node with a technology object.

Two ways to express the assignment relationship:
The assignment relationship always points from active structure to behavior, and from behavior to passive structure.
As with all structural relationships, an assignment relationship can also be expressed by nesting the model elements. For example, a business role inside the business actor performing that role, an application function inside an application component executing that function, or an artifact inside a node that stores it.
Related Articles: