This bundle is for individuals wishing to self-study for ArchiMate 3 Certification and who plan to take the ArchiMate 3 examinations. The 2nd edition is updated to align with the ArchiMate 3.0.1 Specification. (preview sample Study Guide)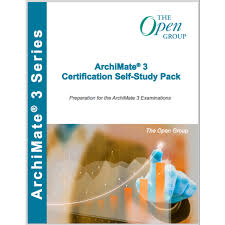 It includes the following materials in a single bundle:
ArchiMate 3 Foundation Study Guide (PDF);
ArchiMate 3 Practitioner Study Notes (PDF)
ArchiMate 3 Practitioner Bridging Study Notes (PDF)
ArchiMate 3 Part 1 Practice Test
ArchiMate 3 Part 2 Practice Test
ArchiMate 3 Advanced Bridge Practice test
ArchiMate 3 Practical Modeling Exercises and Solutions (PDF)
ArchiMate 3.0 Reference Cards (PDF)
ArchiMate 3.0.1 Pocket Guide (PDF)
In addition, it also contains the following bonus material:
Case Study: ArchiSurance Case Study (PDF)
Case Study: ArchiMetal Case Study (PDF)
Information Sheets on the ArchiMate 3 Certification Program (PDF)
Overview Presentation on what's new in ArchiMate 3 (PDF)
White Papers
Visio Stencils
While reading this Study Guide, the reader should also refer to the ArchiMate 3.0 documentation available online at pubs.opengroup.org/architecture/archimate3-doc and also available in book form.