As mentioned in Part I, the metamodel of motivational is an extension in ArchiMate as shown in the Figure below that includes two kind of motivational concepts: 1) Source of Intentions 2) Motivation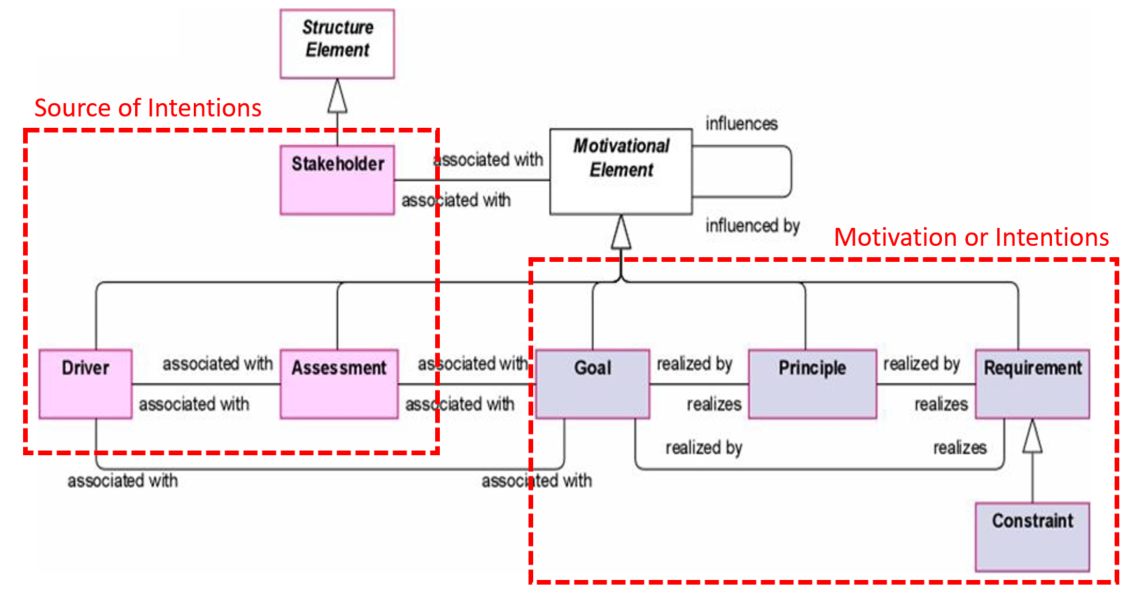 Source of Intentions: 1) Stakeholder, 2) Driver and 3) Assessment
Stakeholder
A stakeholder is defined as the role of an individual, team, or organization (or classes thereof) that represents their interests in, or concerns relative to, the outcome of the architecture.

A stakeholder has one or more interests in, or concerns about, the organization and its enterprise architecture. In order to direct efforts to these interests and concerns, stakeholders change, set, and emphasize goals. The name of a stakeholder should preferably be a noun.
Stakeholder Examples:
CEO
board of directors
shareholders
customers
business
application architects
legislative authorities

.
Motivation Extension – ArchiMate Diagram
The model below illustrates the modeling of stakeholders. Two main stakeholders are modeled:

The 

Board

 of ArchiSurance

Customer

.
The Board is composed of three other stakeholders:  the CIO, the CEO, and the CFO.
2. Driver
A driver is defined as something that creates, motivates, and fuels the change in an organization.  The name of a driver should preferably be a noun.
Internal Driver
Drivers may be internal, in which case they are usually associated with a stakeholder. 
Examples of internal drivers (or called "concerns"):
Customer satisfaction

Compliance to legislation

Profitability
External Driver
Drivers of change may also be external:
Example:
Economic changes

changing legislation

Example
ArchiMate Diagram illustrates the modeling of internal and external drivers of change.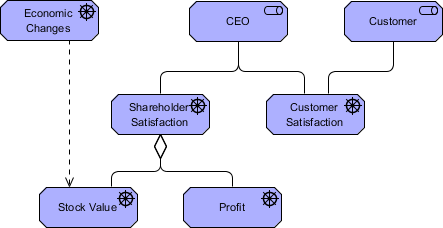 Interpreting the Diagram
Stakeholders CEO (internal) and Customer  (external) share a common concern Customer Satisfaction, which is an internal driver of change.
The stakeholder CEO also has the satisfaction of the company's shareholders as a concern.
This driver can be decomposed into two sub-drivers: 
In addition to these internal drivers, there is an external driver Economic changes, which influences the internal driver – stock value.
3. Assessment
An assessment may reveal strengths, weaknesses, opportunities, or threats  (SWOT) for some area of interest. These outcomes need to be addressed by adjusting existing goals or setting new ones, which may trigger changes to the enterprise architecture. An assessment is defined as the outcome of some analysis of some driver. The name of an assessment should preferably be a noun or a (very) short sentence.

SWOT Analysis
Internal and External Factors
Strengths and weaknesses are internal to the organization.
Opportunities and threats are external to the organization.
Maximize the Good and Minimize the Bad
Strengths and opportunities may be translated directly into goals.
Weaknesses and threats can be considered as problems that need to be addressed by goals that mitigate and reverse the weaknesses and threats.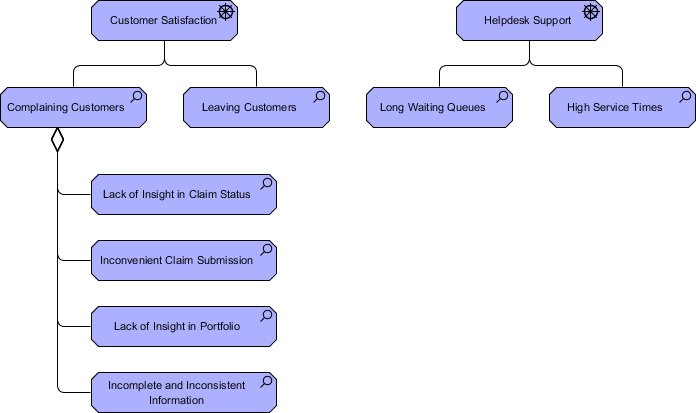 Example:
The weakness "customers complain about the help desk" can be addressed by defining the goal "improve help desk".

The opportunity "customers favor insurances that can be managed on-line" can be addressed by the goal "introduce on-line portfolio management".
Other ArchiMate Resources