The Implementation and Migration Extension adds concepts to support the implementation and migration of architectures in Phase E (Opportunities and Solutions), Phase F (Migration Planning), and Phase G (Implementation Governance) of the TOGAF ADM.
This extension includes concepts for modeling implementation programs and projects to support program, portfolio, and project management, and a plateau concept to support migration planning.
Implementation and Migration Extension Example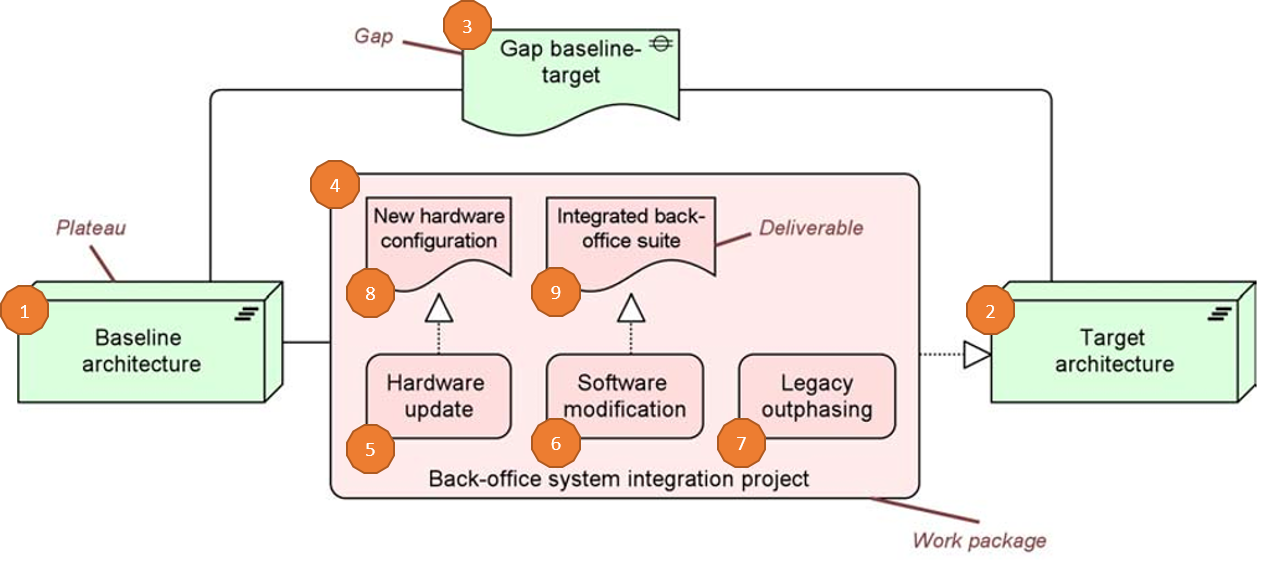 In this example, a " (1) Baseline architecture" and " (2) Target architecture" are defined and represented as plateaus – states which exist at a limited or particular point in time.
The result of an analysis of the differences between the two plateaus is defined as a gap, referred to as " (3) Gap baseline-target".
The " (4) Back-office system integration project" work package is established and comprises of three lower-level work packages " (5) Hardware update" realizes a deliverable of providing a " (8) New hardware configuration", "(6) Software modification" realizes a deliverable of an " (9) Integrated back-office suite", whilst the third lower-level work package " (7) Legacy outphasing" has no identified deliverables.
Undertaking the work packages results in the " (2)Target architecture" plateau as an end state.
Other ArchiMate Resources: