ArchiMate
 is an open and independent enterprise architecture modeling language to support the description, analysis and visualization of architecture within and across business domains
 in an unambiguous way.

ArchiMate offers a common language for describing the construction and operation of business processes, organizational structures, information flows, IT systems, and technical infrastructure. This insight helps stakeholders to design, assess, and communicate the consequences of decisions and changes within and between these business domains
Origin of ArchiMate
ArchiMate is a technical standard from The Open Group and is based on the concepts of the IEEE 1471 standard. It is supported by various tool vendors and consulting firms. ArchiMate is also a registered trademark of The Open Group. The Open Group has a certification program for ArchiMate users, software tools and courses.
ArchiMate – Visual Language for EA
ArchiMate distinguishes itself from other languages such as Unified Modeling Language (UML) and Business Process Modeling and Notation (BPMN) by its enterprise modelling scope.
The Latest ArchiMate 3 Specification
The latest version of the language is the ArchiMate 3.0 Specification, which was published in June 2016.  ArchiMate 3.0 is a major update to the standard, with many new concepts. New features included in Version 3.0 includes:
The new elements are introduced for modeling the enterprise at a strategic level d, such as capability, resource, and outcome.
It also includes support to model the physical world of materials and equipment.
Furthermore, the consistency and structure of the language have been improved, definitions have been aligned with other standards, and its usability has been enhanced in various other ways.
Benefits of ArchiMate
ArchiMate is an open standard maintained and kept up to date by The Open Group. The latest developments and ideas in enterprise architecture are taken into consideration and the ArchiMate framework is continually being enhanced.
ArchiMate ensures consistency across all architecture models, thus it is a lean and simple language. It contains just enough concepts for modeling enterprise architecture and is not bloated to include everything possible. As a result, enterprise architecture can be communicated in clear and consistent manner across all your business domains. Its uniform structure makes it easy to learn and apply.
Visual Paradigm ArchiMate 3 Certified Tool
ArchiMate 3 provides a rich set of modeling notations and concepts that supports modeling architectures consistently within and across domains.

As a certified ArchiMate 3 enterprise architecture tool, Visual Paradigm supports all the vocabulary, notation, syntax, and semantics of the ArchiMate 3 visual modeling language. And by combining the use of ArchiMate in TOGAF ADM, you can achieve a consistent description and representation of the architectural details throughout the whole transformation cycle.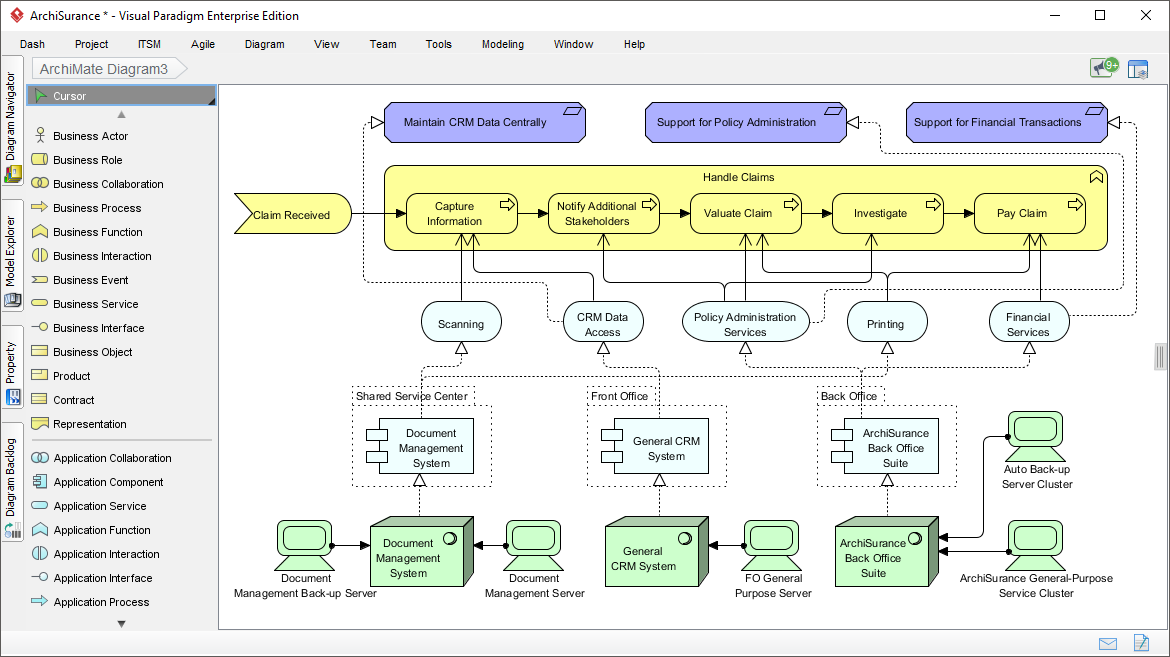 References: