The TOGAF framework and the ArchiMate model
Origin of TOGAF
The Open Group Architecture Framework(TOGAF) is aframework for enterprise architecture hat provides an approach for designing, planning, implementing, and governing an enterprise information technology architecture. TOGAF is a high level approach to design. It is typically modeled at four levels: Business, Application, Data, and Technology. TOGAF was developed starting 1995 by The Open Group, based on DoD's TAFIM. As of 2016, The Open Group reports that TOGAF is employed by 80% of Global 50 companies and 60% of Fortune 500 companies.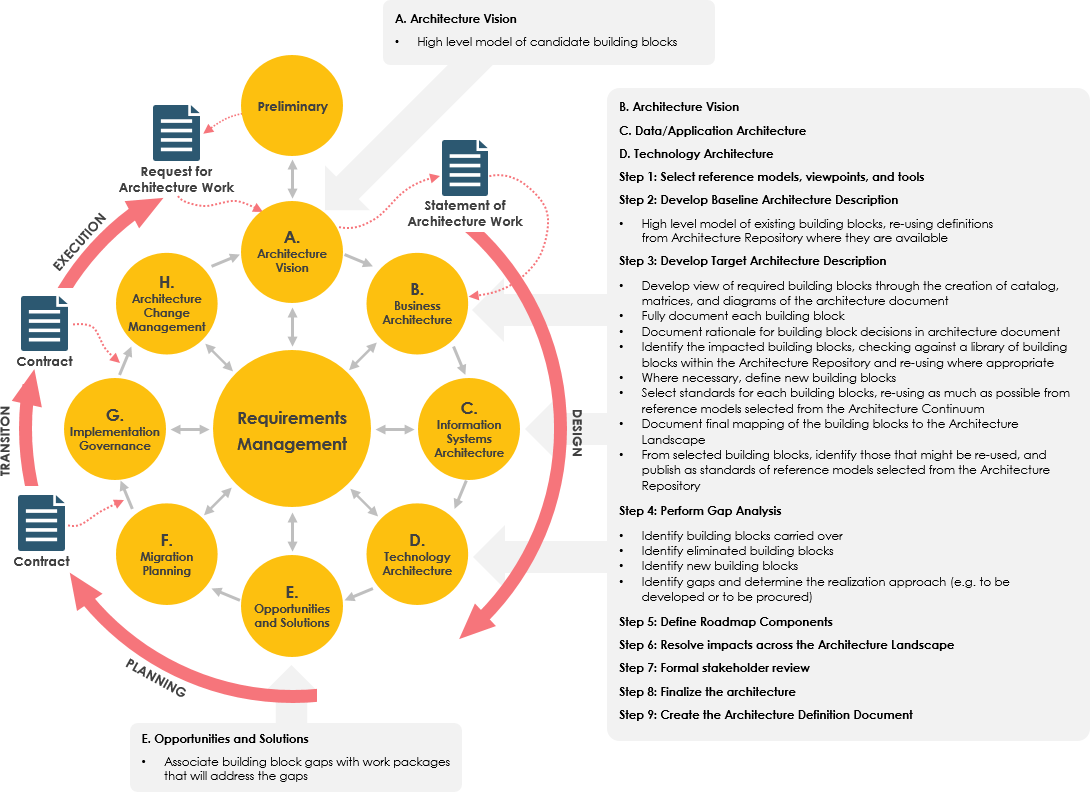 ADM is iterative at three levels: over the whole process, between phases, and within phases. It is a generic method, and it can be tailored to suit the specific needs of the organization. For example, some US federal agencies that use ADM have developed architecture deliverables specific to their particular departmental needs.
What is ArchiMate?
ArchiMate, an Open Group Standard, is an open and independent modeling language for enterprise architecture that provides instruments to describe, analyze, and visualize the relationships among business, application and technology domains in an unambiguous way.
Just as an architectural drawing in classical building architecture describes the various aspects of the construction and use of a building, ArchiMate offers a common language for describing the construction and operation of business processes, organizational structures, information flows, IT systems, and technical infrastructure. This insight helps stakeholders to design, assess, and communicate the consequences of decisions and changes within and between these business domains. (Source: The Open Group)
ArchiMate is organized into three core layers and two extensions that match with TOGAF ADM's 9+1 Phasesand the following Figure shows the mapping between the two:
Business layer (Yellow Color – Phase B)
This layer models the organization structure and the services it produces, business roles and processes, and business objects such as products and contracts.
Application layer (Blue Color – Phase C)
It describes application components and their interactions, logical data entities and their relationships, and the resulting services offered to the upper (business) layer.
Technology layer (Green Color – Phase D)
This one models hardware and software systems and the connecting networks, showing how they translate into services provided to the upper (application) layer.
The AchiMate 2.0 specifications added two extensions to the core layers.
Strategy and Motivation (Purple Color – Preliminary, Phase A, Requirement Management & Part of Phase H)
Motivational concepts are used to model the motivations, or reasons, that influence, guide, or constrain the design or change of some part of the enterprise architecture.
Implementation and migration (Pink Color – Phase E, F, G and Part of Phase H)
This extension includes concepts for modeling change programs and migration planning, as well as to support program, portfolio, and project management.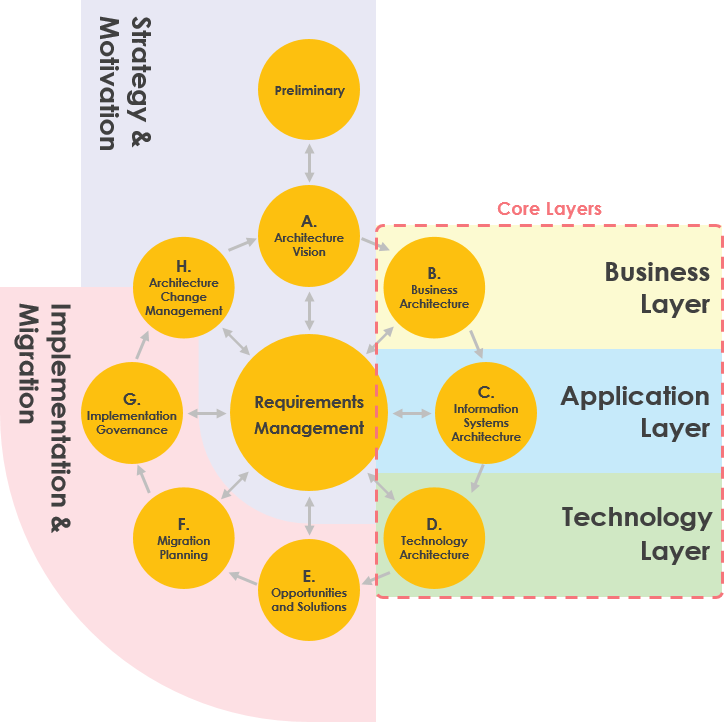 Learn More About Archimate
Learn More About TOGAF